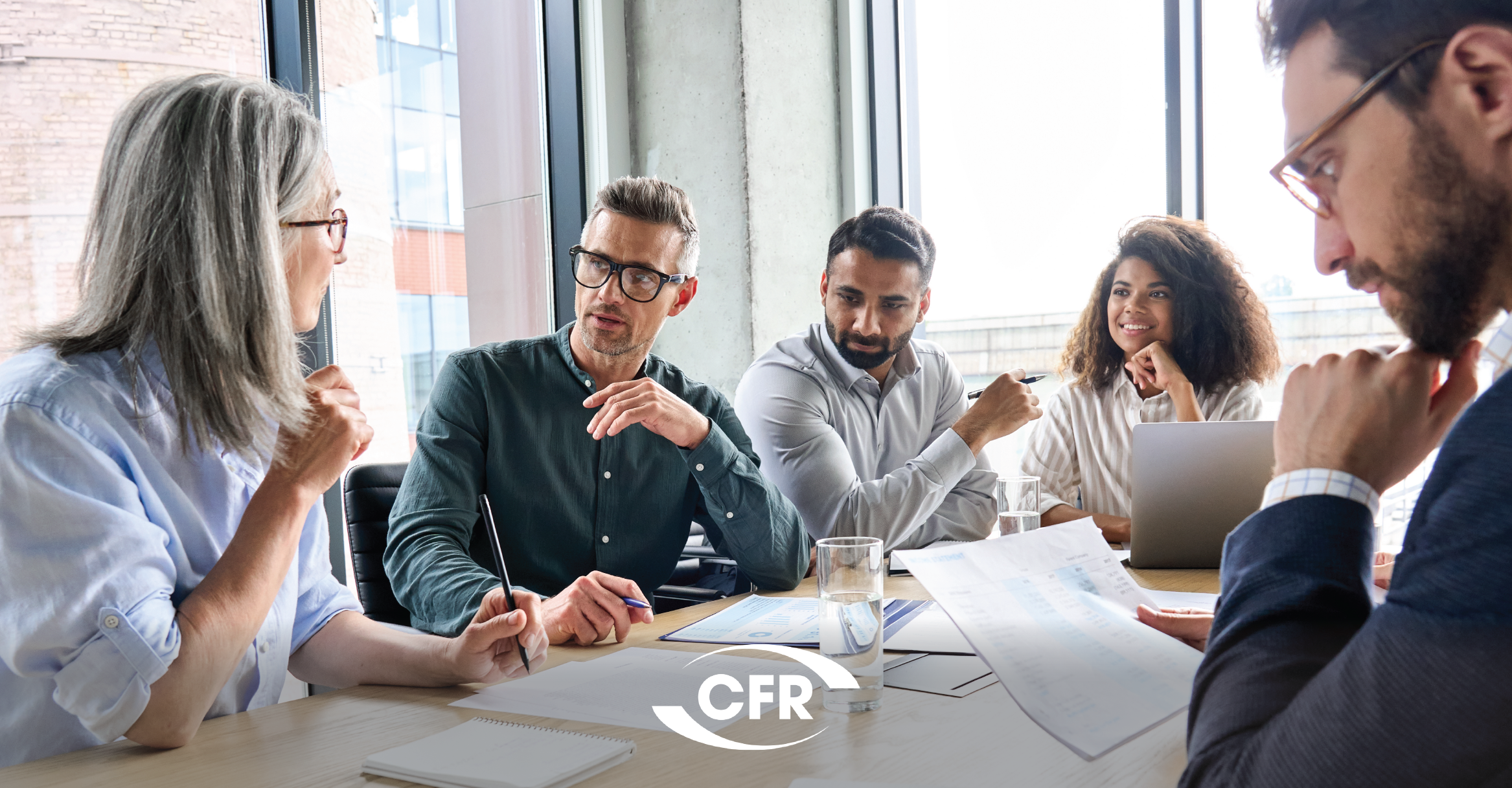 How CFR Can Boost Business Growth
---
Our clients are experts at what they do – creating innovative solutions for their own clients, providing thought leadership that shapes the industry, and helping to steer meaningful business solutions. But if they're honest with themselves, many of the business leaders we partner with spend more time than they'd like micromanaging the research process.
When it comes to retaining clients and securing bigger business, your energies are better spent doing what you do best: Connecting with clients' businesses and engaging in analysis that yields strategic recommendations. But to spend more time on the important things, you need to partner with a marketing research vendor you trust and have total confidence in the research process.
Ask yourself: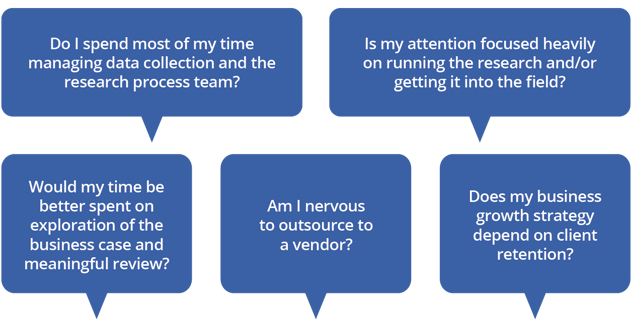 If your answer to any of these questions is YES, you should know 1) you're not alone and 2) there IS a solution.
Finding the Right Vendor Can Make or Break
Business Growth Goals

Being let down by a vendor that couldn't meet quotas, deliver results on time, or anticipate potential obstacles to the process is a story we've heard many times at Communications for Research. It's why so many professionals hesitate to commit themselves (and their business dollars) to bring on a research vendor.
We understand that, despite your expertise, your business may lack the capacity to conduct in-house research that taps into the right audience, at the right scale, and in time to effect meaningful business change.
Equally, uncertainty around finding a trustworthy research vendor that can deliver on promises of quality results is hardly surprising. If you haven't been burned before, you've heard plenty of horror stories from those who have. It doesn't need to be that way.
Finding a trustworthy business research partner is crucial and can help you to accelerate your business growth – giving you the time and peace of mind to focus on impacting your business and clients while the execution of data collection and processing is conducted by experts.


Finding the right vendor means:
Relieving the pressure on your time
Reserving your team's expertise for where they can make the most impact
Giving you the capacity to concentrate on connecting with clients
Supplementing your expertise without blowing out overhead costs
Securing high-quality qualitative market research
Being able to rely on the data with quality quantitative research and survey design
Anticipating obstacles and having solutions proposed before they derail a project
Impressing clients and making a meaningful impact on business
Avoiding missing out on opportunities due to poor data or missed deadlines
Being nimble and acting quickly to conduct high-quality research where and when it's needed
Greater success in client retention and acquisition
Scaling a business doesn't mean putting in more hours and increasing the pressure on your already-stretched bandwidth. Company growth comes down to finding a vendor that meets your high standards and earns your trust through a proven track record and continuous delivery of high-quality results. What does that look like? Read on.
CFR: A Strategic Partner to Supplement Team Expertise

A trusted, experienced, and expert consumer research partner can enhance your confidence in the research process 10-fold. At CFR, we work closely with you so that we:
Understand the vision you have for the project
Appreciate the outcomes you desire
Have the right measures in place to achieve your vision
Design and execute the project
Anticipate obstacles and propose solutions before they become an issue
Deliver the results you need to make a real impact
These results aren't achieved by accident. With over 22 years of experience, we are an Insights Champion Ally specializing in market research logistics. We carefully plan our projects and are committed to end-to-end quality control, giving you the freedom to cast your vision, manage, and lead the project, without having to oversee the minutiae.
Planning for success from the inception of your idea, CFR will:


| | |
| --- | --- |
| | Deliver a proposal plan to define research specifications, timelines and milestones, communication expectations, escalation paths, and partner approval process if the scope needs to change or shift. |
| | Schedule a kick-off call for success within 24 – 48 hours of booking your research study. This ensures clarity of goals and team alignment for the project while setting expectations for ongoing communication protocols. |
| | Define research specifications for the project, including defining objectives and methodologies, specifying quotas, and detailing sponsorship and incentives. |
| | Determine the target audience engagement details, including audience description, screening criteria, sampling plan, defining the respondent experience, and more. |
| | Outline what we need from each other, such as next-step deliverables from your project manager to you, from you to your project manager, and marking a future contact point. |

At CFR, we are committed to expert planning, well-executed kick-offs, and ongoing clear communication. Our dedication to this approach means we consistently deliver on and exceed the expectations of our clients. Above all else, our vision is to become a trusted consumer research partner for your team, empowering you to focus on delivering results, retaining clients, and ultimately, achieving positive company growth.
Read more about how we plan for success here.
The marketing research process: Our approach

We are proud to have account managers and project managers that are not only deeply committed to our clients' visions, but that truly understand the purpose of their research and the impact it has. By providing the tools and training they need, and by utilizing our proven marketing research approach, we ensure the best results for you – supplementing your team's resources without inflating overhead costs.
Finding a research opportunity by determining the purpose of the research and at which point we will join your research process.
Setting clear expectations about what we bring to the table, what is achievable, and what the costs will be.
Discussion and approval, where we determine responsibilities, processes, and expectations.
Project launch, during which we clarify any questions the project manager still has and kick off the launch with a comprehensive understanding of the goals, milestones, and expectations for delivery.
Delivering our service with complete transparency, as your assigned project manager takes ownership over achieving the prescribed outcomes, on budget and on time.
Post-project follow-through where we assess our own performance, detail to you what our assessment of the success of the project was, and invite feedback that helps us to continuously evolve and improve.

As the client-facing lead for your team, we know that the buck stops with you. In the past, this has seen you battling in the weeds to ensure research projects go to plan. After all, if you want something done right, you've so often had to do it yourself.
CFR strives to relieve this pressure by becoming an extension of your team – one that you can trust for high-quality results, clear communication, and regular updates throughout the process. The methods, technologies, and processes we employ ensure that your team receives the highest quality results in the most cost-effective way – helping you to make a real impact in your own business, and in those of your clients.
---
Get in touch with our team.
Find out more, and revolutionize the way you conduct market research.