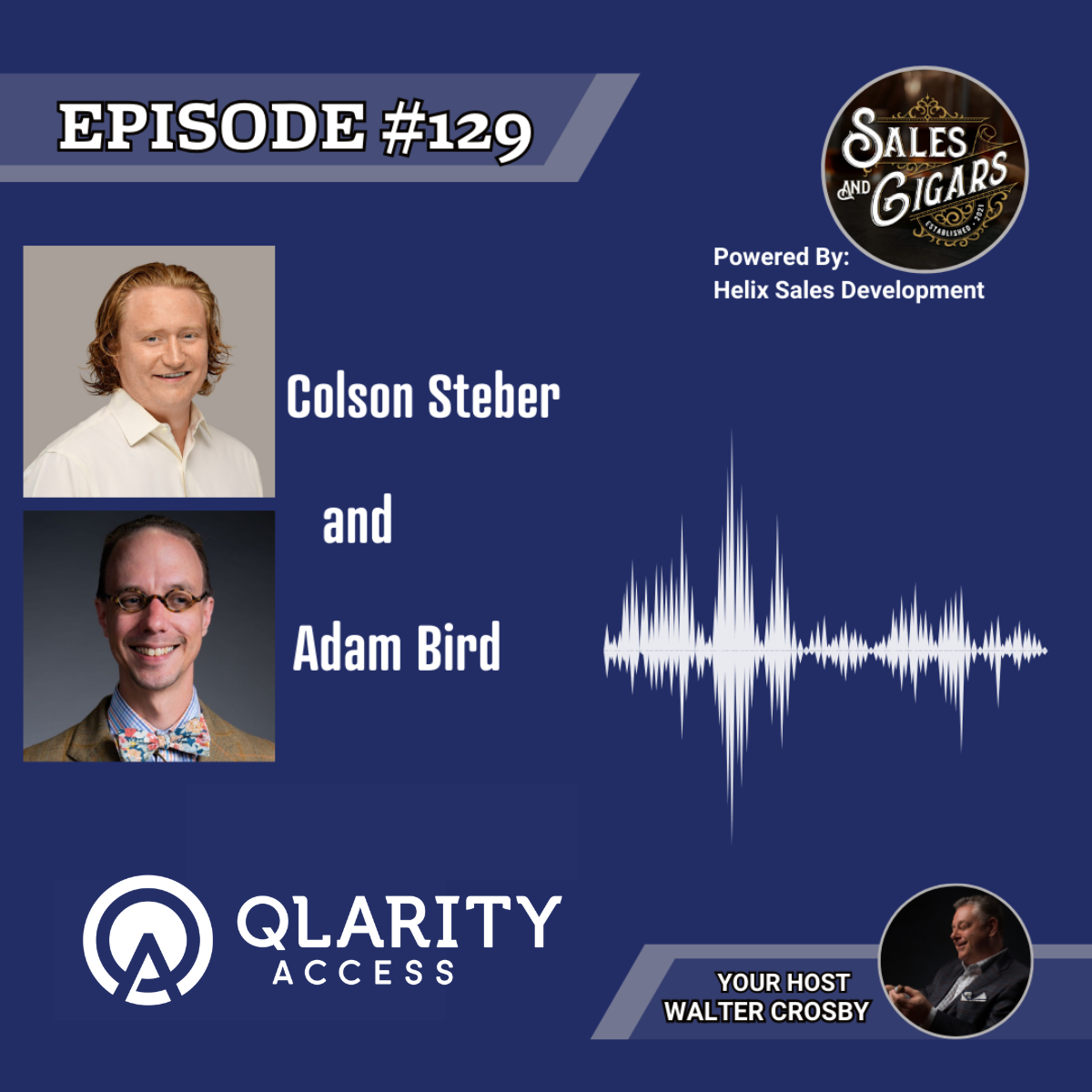 Featured In: Sales and Cigars Podcast with Walter Crosby and Adam Bird
---
In a new podcast episode, host Walter Crosby, along with Colson Steber Co-CEO of the rebranded Qlarity Access and Adam Bird of Deksia, explore our evolution from Communications for Research to Qlarity Access. This rebrand has been something Colson has wanted to do for a long time to ensure that the branding better represents our current reality as a research logistics company that works directly with the research user to bridge the gap between strategy and results.
Embracing Change in a Dynamic World
In the heart of a small town in Missouri, an idea took root. Founded as a telephone research recruitment company by Colson's father, the business was born out of a desire to serve a segment often overlooked by large corporations. This very ambition laid the groundwork for what would later evolve into the dynamic Qlarity Access.
Fast forward a couple of decades, and the world of market research was undergoing seismic shifts. Traditional methods like telephone interviewing, which was the lifeblood of the business, were starting to fade. Recognizing the signs of the times, Colson and his father's right-hand man, Curtis Burrow, purchased the company and embarked on a transformative journey, for themselves and the business. They faced the challenge head-on, taking on seller financed debt, revamping their business model, and expanding their offerings to meet the demands of a new age.
So Why Qlarity Access?
Qlarity Access' story is one of relentless continuous improvement. In less than a decade, a few strategic shifts and our adaptability allowed us to not only transform our business but also grow by 300%. We furthered this goal with the introduction of Ag Access in 2020, a core service offering which grants customers access to a community of over 400,000 ag related and veterinary professionals including those in farming, animal health, hobby growing, and landscaping and turf management.
Central to Qlarity Access' ethos is an unwavering dedication to delivering genuine value. Colson spotlighted their unique approach, underscoring the pivotal role of "research logistics." It's not just a process – it's a promise. The Research Logistics Proven Process is a straightforward but stringent formula: detailed planning, impeccable execution, continuous monitoring, and consistent communication.
Qlarity Access' distinctive edge stems from our pledge to ensure clarity and confidence in decision making through a system that is repeatable. Clients aren't merely offered solutions; they're walked through the journey, ensuring clarity at every step. This level of transparency fosters trust and sets the stage for unwavering client confidence.
Throughout this rebranding, Colson reinforces that the essence – the very soul – of Qlarity Access remains unshaken. The new branding's intent is to accentuate the time-tested values, not to alter them. Where Communications for Research commoditized the business and was a literal definition of the tasks we do, Qlarity Access as a brand highlights the ways that the company is unique and what we bring to the table.
Crafting Identity: Capturing Essence with Deksia
In order to get where we are now, Colson, in partnership with Adam and the whole Deksia team, embarked on a transformative branding journey. Deksia's philosophy is not just about visuals but forging a memorable corporate persona. Their approach, blending data-driven strategies with intuitive insights, crafts brands that resonate both widely and deeply.
The pathway to rebranding began with a set of facilitated discovery meetings. It's a process that is supposed to feel like a conversation, not an interrogation, to help the client get everything out of their head and onto the page. This allows Deksia to hear how leaders speak about their business in casual, no pressure, one on one situations and, most importantly, to understand their clients on the deepest level.
What Deksia discovered was the insight that Qlarity Access' core tenet is that everyone matters. Adam explains that this was evident not only through the way that Colson and Curtis talked about not only their clients, but their employees and research participants, which are the heart of the market research industry. "Everyone matters" isn't just something that was said, but a driving force of actions and concerns.
At the end of this process, Deksia identified Qlarity Access as a Sage brand, a brand that is a wise guide for our clients. After the full branding suite was developed, Deksia went a step beyond just the visual and navigated the nuanced differences in communication between sales contexts (connecting on a personal level) and marketing contexts (engaging the masses), resulting in brand messaging that speaks to diverse audiences.
Qlarity Access: Looking Towards the Future
For Colson, a business's soul carries more weight than its financial valuation. His vision for Qlarity Access is clear: to stand as a testament to our dedication to providing clarity in decision making, and to instill unwavering confidence in everyone we work with.
As the curtains rise on 'Qlarity Access', it's in beautiful synchrony with the 27th anniversary of 'Communications for Research'. Twenty seven years to the day that the company opened its doors, it was again reborn under new branding. It's not just about a fresh coat of paint; it's a tribute to an enduring legacy and an unwavering commitment to clarity. Stick with us along this journey to see how it continues to unfold.
Listen to this tale of dreams, determination, and commitment to clarity below.
Are you interested in talking with Colson one on one?
Please reach out to us and let us know!